Accurate, affordable, easy to use and scalable personality assessment platform
Expedite the interview process. Conduct targeted interviews.
Help your clients make well-informed hiring decisions
Give TraitForward a try with a complimentary one-month trial!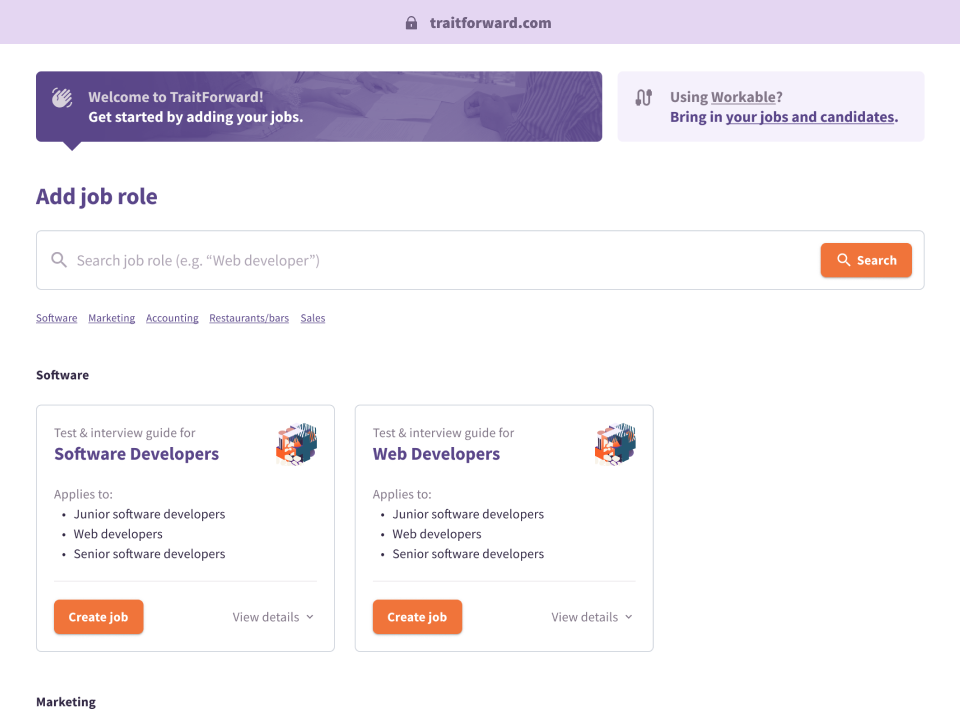 The TraitForward Process
Select a job-specific personality questionnaire
Send it to the applicants and await their responses
Receive an interview guide with candidate results
Conduct targeted interviews based on insights
Tailored for Recruitment Experts
Help your clients hire employees with the necessary technical proficiency, the desired soft skills, and the right mindset.
Tell us what you're looking for and we'll get in touch with you as soon as possible!
The Ultimate Assessment Platform for the Modern Recruiter
TraitForward is not just any psychometric tool; nor just another assessment software. It is the culmination of independent scientific research and cutting-edge technology, specifically designed to help recruitment professionals who seek to enhance and simplify their recruitment processes.
Here's what TraitForward offers:
A user-friendly assessment platform
Manage and interpret job-specific assessments for a streamlined recruitment process.
Select the job-specific, pre-employment questionnaire that you need.
Send it to the applicants within minutes.
Receive comprehensive results with ease.
Precision through Scientific Job-Role Mapping
Benefit from a solid scientific foundation to conduct interviews with precision and purpose.
Gain access to meticulously created assessments, based on Job Category and Job Role.
Evaluate candidates not only for their technical knowledge and experience but also for their soft skills.
Save valuable time on assessment procedures and reduce your workload — all while maintaining quality throughout your evaluations.
Eliminate the risk of incorrect candidate choices, ensuring a good fit for each job role.
Reports you can confidently share with your clients
Receive comprehensive reports on candidates' results and give valuable feedback to your clients in clear and understandable language.
Get detailed reports on the candidates' results.
Effortlessly compare results among candidates vying for the same position.
Leverage the platform's suggested interview questions within a structured framework.
Access automatically generated score reports, filtered by candidate.
Ensure a seamless cultural fit within your client's organization.
Export customizable reports tailored to your requirements.
Offer your clients key insights into the critical traits essential for the job position, enabling them to make well-informed decisions.
Get automatically produced score reports, filtered by candidate.
Generate and export customizable reports, as you need them.
Confidence in Scientific Validity
Trust in a credible and dependable tool, backed by scientific research, to enhance the precision of your evaluations.
Rely on questions developed by the esteemed Oregon Research Institute.
Rest assured knowing that these questions have been employed in over 900 independent academic publications.
Utilize hand-picked questions closely aligned with specific occupations.
Take comfort in the knowledge that all our assessment scales exceed the benchmark value of 0.7 for Cronbach's Alpha, ensuring a high level of precision in your evaluations.