Specialized personality questionnaires and interview guides for
Accountant
Conduct meaningful interviews based on personality questionnaires with confidence
Get started with a free month trial.
No prior special knowledge required!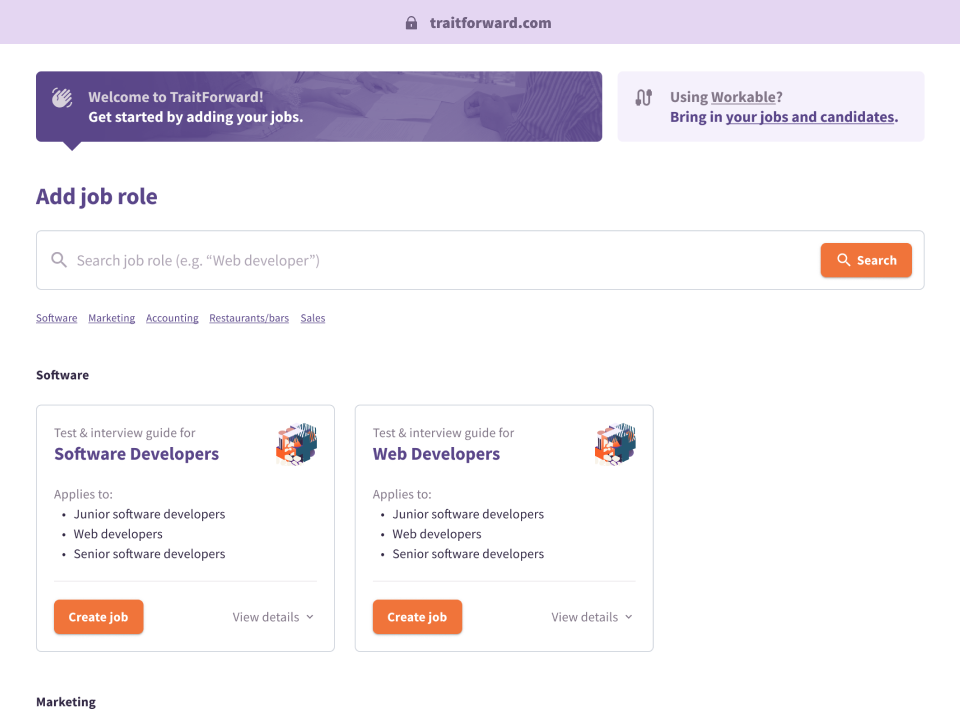 How it works
Select a job-specific personality questionnaire
Applicants complete this short questionnaire
You get an interview guide with candidate results
Do a shorter, focused interview with confidence
Great for SMBs, startups and B2B services!
Staff your business, with confidence. Hire people with the right mindset and soft skills that matter.
Tell us your staffing needs and we will get back to you!
Great for startups and B2B services!
Staff your startup or established business with confidence, hiring developers that have the right mindset and soft skills that matter.
Easy-to-use, cloud-based assessment software
Use the pre-employment test made for your job openings in minutes and distribute it to candidates in no time! Get results today, and ensure business continuity, on the cloud.
No expertise required
You should not have to deal with a complex, tedious test system, heavy on technical specifications. We've created a pre-employment test system for you that doesn't require you to be an expert! Simple and secure!
Reports you can understand and use in seconds
Get a comprehensive report on a person's results
Compare them with other candidates for the same position
Use the recommended questions, on a structured interview
Only show the traits that matter for this position
No psycho-babble and specialized jargon
Get automatically produced score reports, filtered by candidate.
Generate and export customizable reports, as you need them.
Backed by independent scientific research, engineered for job relevance
Questions developed by the Oregon Research Institute
Questions were employed in 900+ independent academic publications
We hand-picked questions to be as closely related to an occupation as possible
All scales with Cronbach A over .70.